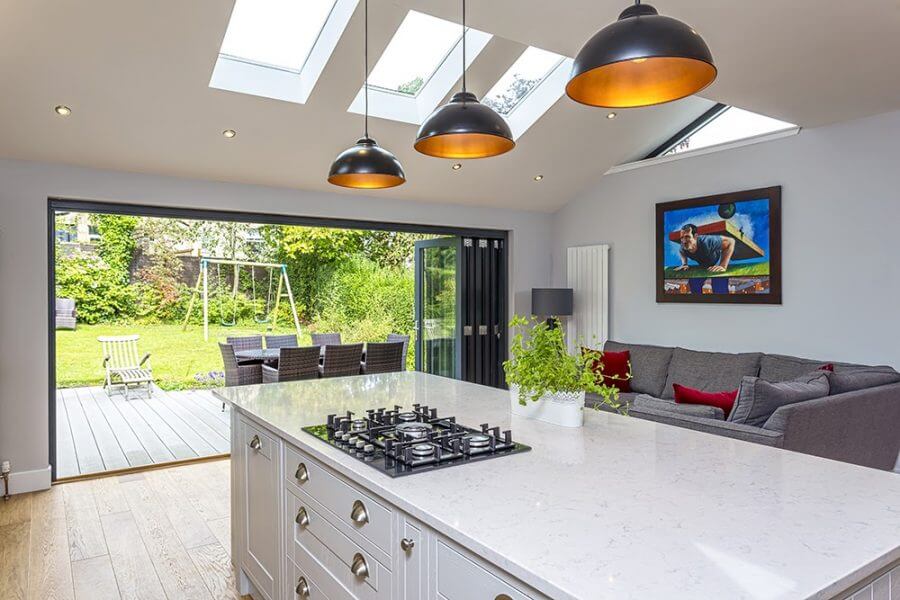 These days kitchens are the focal point of a house. They are often attached to a great room, dining room and other spaces used for entertainment. When purchasing your new home finding your ideal kitchen will make your friends envious while enjoying the amazing hospitality you provide. Ensuring your kitchen has the many sought after details will also help your house sell faster and for a higher value. Here are some things you will want to look for in a kitchen. 
Stainless Steel Appliances
Stainless steel appliances are the new standard when it comes to appliances. These are easy to clean, bug resistant, neutral and long-lasting appliances that are easy to coordinate with other appliances and cabinets.
Guests and potential home buyers will see your appliances such a gas stove tops, double ovens, or induction stoves as modern when comparing to the old electric coil tops.
Having upgraded appliances can also add other conveniences such as the ice and water features in a refrigerator.
Beautiful cabinets
When it comes to the kitchen cabinets make a statement. Homebuyers look for a style that is "in" and those that are made with quality. The ideal kitchen space has quality cabinets with lots of storage space. If a buy is to choose – the workmanship wins almost every time.
A good quality cabinet is one that is made of solid wood (not particle board), has a beautiful finish, quality hinges and runners. Drawers and doors should both have soft-close / anti-slam cabinets and drawers.
Like the stainless-steel appliances home buyers want something modern, simple and elegant. This means oak cabinetry is out! Oak cabinets are seen as dated so an ideal kitchen may have a different wood such as maple.
Granite Counter Tops
The countertop is what makes one of the biggest impacts to your kitchen and can add a certain "WOW" factor. Home buyers of all background that are looking for different styles, sizes and price ranges all appreciate the granite countertop.
If you are purchasing a granite countertop take the time to look at different options. Canadian granite may be more expensive but of a higher quality whereas a countertop from India may be lower quality but have a better price point.
Many companies may offer imitation granite or other types of stone. Asking your realtor may help reduce any confusion and help you make a more informed choice when it comes to buying your next home – with the perfect kitchen.

A kitchen Island
As we mentioned above the kitchen is not just for cooking. It makes a great entertainment space. Having an island in your kitchen adds a place for those with a busy life style and add many new benefits to your kitchen.
Islands add extra storage, seating, prep areas and better access so your kids and family can assist with the meals. An island can add more features such as a sink, mini fridge for drinks, extra cook tops, outlets and more.
An island makes a great addition to any kitchen space. It may not make as big of an impact as granite counter tops and stainless-steel appliance in most homes but if the space allows an island will add more options to entertaining your guests.
Hardwood or laminate flooring
Let's face it – carpet is out. Carpets are full of germs making them unhygienic. A hard floor such as hardwood or laminate flooring is the new flooring style. Hardwood floors are durable, easy to clean and add a feel of organic warmth to the home.
There is many different styles, stains, and grains making this a versatile option for flooring. Wood rarely goes out of style and add a timeless feel to your home.
With many options to choose from laminate flooring may offer a more cost effective, more durable option to your flooring. Laminate flooring is a man-made version of hardwood with many of the similar style options we mentioned above.
Whether its hardwood or laminate these options will be sure to add value to any home.
Open Concept
An open-concept home is the new version of modern. They offer many benefits from entertaining guests to caring for the little ones. Open concept layouts make your multiple rooms (dining room, living room and kitchen) feel like one great room blending adjacent spacing.
The open concept allows you to entertain guests and keep an eye on the kids. They are comfortable, spacious and add more natural light into the room which can make you feel happier.
Conclusion
These days kitchens are a focal point of a home. Finding a home with the right kitchen can be a daunting task. Having an expert real estate agent will reduce the headache that comes with choosing the perfect house (and of course the perfect kitchen). It doesn't matter on the counter top or cabinetry, island or no island there is a kitchen for you.